Mexico Auto Insurance – Quote, Purchase, Print Your Policy Online!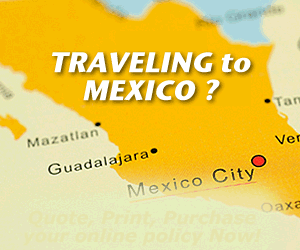 Click Here to Quote, Print, Purchase 
Quick Tips:
Always purchase the extended coverage.  The price difference is small, but the difference in coverage
Always choose the highest liability limit available. 
If you have a claim, call in the claim before you cross back over to the USA.
Keep your policy with you at all times.
Notify your lienholder if there is a loan on your vehicle and allow enough time to complete their required paperwork and documentation and approvals prior to your trip.
If you need assistance, need to extend your stay, or other questions, please call 844-273-5527 for customer service. 
The number to report a claim will be on your policy, depending on the company you select.